What is Structured Data? And Why Should You Implement It?
If you're running a website, SEO is likely something on your mind at least some of the time. Optimizing for search engines can be vitally important, as organic search is typically one of the major ways new visitors will find your site. And as you know, each person who lands on your site is a potential customer or client. While you're optimizing your content for SEO and thinking about keywords and meta descriptions, you need to go a bit further than just that. You need to think about structured data as well. Today, we're going to define what structured data is, go over some of its benefits, and offer up a few examples of how to implement it on your site. 
Let's dive in. 
Structured Data: A Definition 
The term structured data refers to a type of markup that provides search engines with key information about your website. It can also provide information about a specific page or the way your content is organized. The more information you provide to the search engines like Google about your site, the better it will be able to serve up your content to searchers at appropriate times. 
You can think of structured data as a way to provide search engines with contextual information about your site and its content so that it includes your pages in search results for more relevant queries. 
Benefits of Structured Data 
Even just by its definition, structured data sounds pretty great. However, there are even more concrete reasons why it should be implemented on your site as soon as possible. Let's explore a few. 
Your Site Will Appear with Rich Snippets 
First and foremost, using structure data will add rich snippets to your site's listing when it appears in the search results. Rich snippets add more contextual clues about your site so searchers can have a clearer understanding of what clicking through will provide.  It also has the added bonus of making your site listing in the SERPs stand out and take up more space — all major perks when it comes to getting more clicks. 
Your Site Will Appear in Google's Knowledge Graph
Another stand out benefit (and way to make your site stand out from the competition) is the fact that structured data can make your site appear in the Google Knowledge Graph. This is actually a database that stores "entities" and their various relationships. Entities can be your website itself, your company, your brand, individual products you sell, and more. 
When someone sees your site in search results and it has been included in the Knowledge Graph, your listing will have a Knowledge Panel next to it that provides detailed information about your company. This can add tremendous authority to your brand. If were to search for a company name like "Apple," for instance, I'd see a Knowledge Panel in the form of a card that offers background info on the company: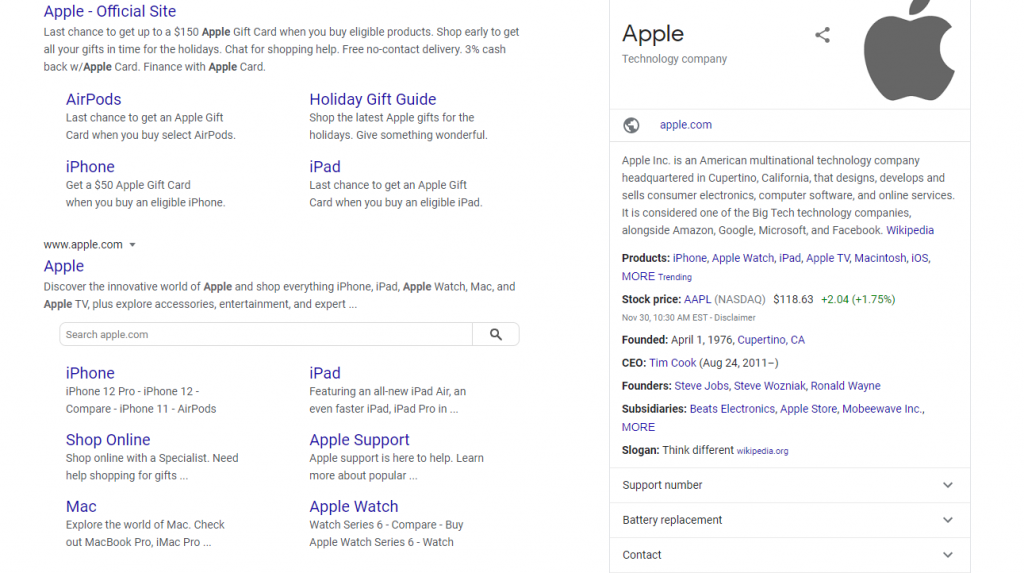 Increase Your Site's Authority in Your Niche
As you might expect, having your content supplemented in search results with Knowledge Panels and rich snippets, can dramatically increase your authority in your industry or niche and elevate your reputation as an expert. This also has the added benefit of boosting trust in your brand. After all, if your site is featured this way, it's bound to stand out. 
How to Implement Structured Data via Schema Markup
The way to add structured data to your site is through something called schema markup. This can be quite difficult to add manually. Luckily, there are several tools available to simplify the process. 
Use a Plugin 
If you use WordPress, a plugin like Schema App Structured Data can make a world of difference. 

To use this plugin, install it as you would any other WordPress plugin then activate it. Once installed, this plugin adds schema markup to all pages, posts, categories, author, and tag content. Add a logo and your company's name to the plugin's settings and it will automatically clue in Google, Bing, and other search engines as to what your site is about. It adds Google Site Structure features to your site as well linking Your Site Name in Results, Breadcrumbs, and Sitelinks Searchbox. All in all, an easy way to add structured data without actually have to add anything yourself. 
Use the Structured Data Markup Helper 
If you don't use WordPress, you'll need to go about this a different way. Though it's not all that much more complicated. Simply use the Structured Data Markup Helper that Google created.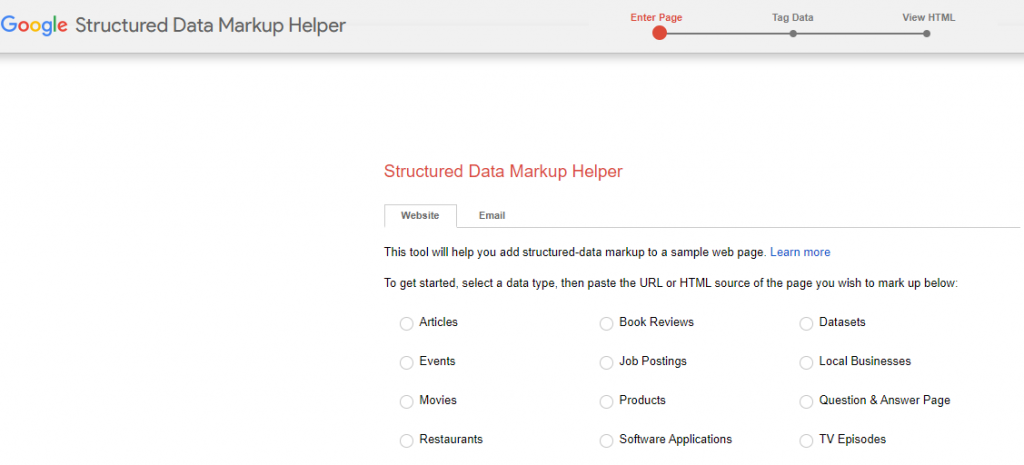 Once you're in the tool, you just need to complete a few basic steps. Click the Website tab. 
Then paste in the URL for the page you want to add structured data to. Select a category for the content of the page. Then proceed to the next page. 
Now, you should see a split-panel presentation. On the left-hand side, you'll see your site's content in HTML. On the right-hand side, you'll see the schema markup tool. To use it, select a portion of the code on the left side then select from the markup tags that appear on the right. So, for example, for the title of the page or blog post, you'd give it the makeup tag "Name." 
After working your way through the entire page or post adding markup, click Create HTML. Be sure to also select JSON-LD. Copy the generated code and paste it into your site's source code. 
Now, you will need to repeat this for every page and post on your site, which could be a time-consuming task. But the benefits are more than worth it when you consider the increase in traffic as well as the increase in relevant traffic you're likely to experience. 
You can add structured data to your site manually as well but it's a significantly more complicated process. There are specific markup opportunities for certain types of content as well like recipe rich cards, e-commerce cards, and more that are vital to take advantage of if you run a site that could benefit. 
Completing these steps won't guarantee that your site will appear with rich snippets and such in search results but it's definitely worth trying for as the benefits speak for themselves. 
Add Structured Data to Your Site Now
Now you know why structured data is important, what benefits it can bring to your website, company, and brand, and you've learned some ways to implement it yourself. All there is left to do is to get to work! 
Best of luck and may you begin reaping the benefits of structured data soon. 
Like our blog? Subscribe to our newsletter.
Over 3 thousand marketers love it. Receive information on best marketing practices, exclusive offers, and ways to boost efficiency, quality, and productivity.