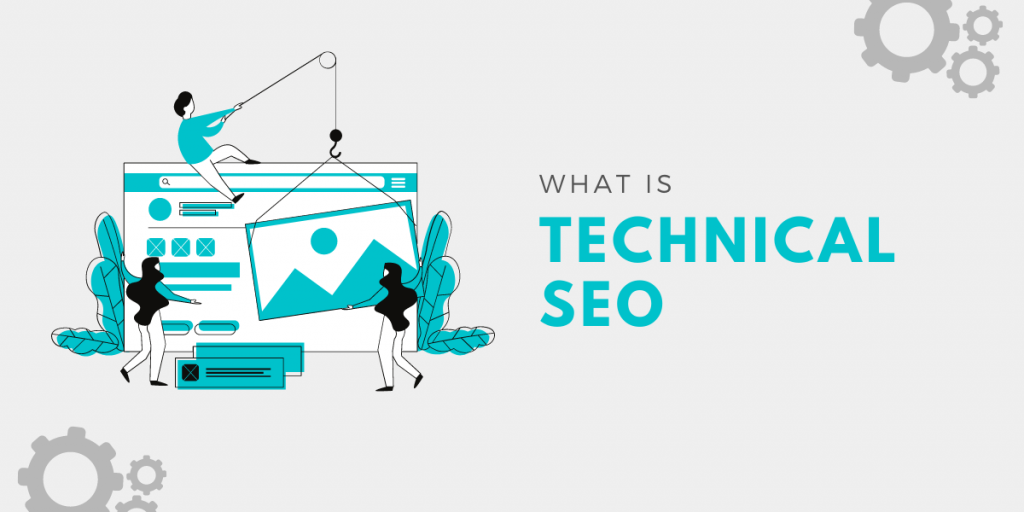 Technical SEO is a crucial part of a great SEO strategy and it shouldn't be overlooked. Understanding technical aspects of search engine optimization and making sure your website is properly optimized can mean all the difference between a high ranking website and a website that doesn't even show up in search engines. 
In this post, we'll explain what technical SEO is and outline the best technical SEO practices to follow. 
What is Technical SEO?
Technical SEO refers to the process of optimizing technical aspects of your website, such as your page speed and security, with the intent of improving your search engine rank. 
Technical SEO is a part of on-page SEO optimization and it helps make your website easier to crawl and index for the search engines.  
Why Technical SEO Matters?
Even though search engines are pretty good at understanding your website, they're not perfect. If a technical issue prevents them from accessing your website, they won't be able to crawl or index your website properly. 
As a result, your website won't display in the search engine results when someone searches for keywords and key terms that are relevant to your business and your industry. 
11 Best Technical SEO Practices
Here are 11 best technical SEO practices that you can implement on your site today to improve your rankings. 
1. Ensure Your Website Is Mobile-Friendly
According to Google, having a mobile-friendly website is crucial if you want your website to rank well in the search engines. In other words, your website has to look good and work as expected on mobile devices. 
Start by testing whether or not your website is mobile-friendly using Google's own test. If you don't pass the test, you can then look into website redesign or switching to a modern and responsive theme. 
2. Use SSL
SSL refers to Secure Sockets Layer which encrypts the information exchanged between the browser and the server your website is hosted on. SSL has been a ranking factor since 2014. 
You can enable SSL on your site by installing an SSL certificate. You can purchase an SSL certificate from your web hosting company or you can get one for free from Let's Encrypt. 
Once you've installed an SSL certificate, make sure to redirect the HTTP version of your website to HTTPS to ensure your visitors are accessing the secure version of your site. 
3. Make Sure You Have An XML Sitemap
An XML sitemap is a file that helps search engines understand the structure of your website better. It contains information about each page on your site, including when the page was last modified and how often it's updated. 
If you use WordPress, you can enable the XML sitemap for your site with the help of Yoast SEO plugin or any other quality SEO plugin.  
4. Improve Your Website Speed
According to statistics, visitors expect your website to load in 2 seconds or less. In addition to that, page speed has been a ranking factor since 2010. Use a tool like Pingdom or GTMetrix to check your website speed and then implement their recommended suggestions. This can include: 
Using a fast hosting provider

Optimizing your images for the web and compressing their size with a plugin like

ShortPixel

Minifying your script and style files

Loading JavaScript asynchronously

Enabling GZIP compression for your website pages

Using a Content Delivery Network (CDN)

Installing a caching plugin like

WP Rocket
5. Check For Duplicate Content Issues
Duplicate content refers to the same or similar content that appears in multiple places around the web, whether that's on your own website or on different websites. 
Contrary to the popular belief, Google and other search engines won't penalize you for duplicate content, however, there are a couple of other issues associated with it: 
A website that scraped your content ranking higher in search engines than you

Unfriendly page links appearing in search results because search engines don't know which page to prioritize
You can check if you have any duplicate pages on your site with Google Search Console and then use the canonical element to fix those issues and let search engines know which page they should index.
6. Enable AMP
When you enable AMP on your site, your AMP-enabled pages load extremely quickly on mobile devices. AMP is a project backed by Google that aims to improve the user experience on mobile devices through the use of AMP HTML technology. You can enable AMP on WordPress by installing the AMP plugin. 
7. Add Structured Data (Schema Markup)
Structured data or schema markup helps search engines understand the content on your website pages better. It includes more information about the content on each page. 
For example, if you enable structured data for products, information about the price and customer rating might show up under the page title in the search engine results pages. You can enable structured data with SEO plugins as well as manually.
8. Use hreflang For Multilingual Content
If you have an international audience and your website offers multilingual content, your search engines need extra help to understand which countries and languages you're trying to reach. 
That's where the hreflang tag comes in handy. With an hreflang tag, you can define which country or language the page is meant for. 
9. Fix Orphaned Pages
Orphaned pages are pages on your website that have no internal links from indexable pages on your site. As a result, search engines can't find them and if they can't find them, they can't display them. You can easily fix this by adding links to those pages on other pages of your site. Alternatively, you can ignore or delete those pages altogether if they aren't relevant. 
10. Fix Broken Links
Broken links on your website can happen as a result of deleting a page or a post on your website or changing the URL without redirecting the previous URL to the new one. Having a lot of broken links on your site hurts the user experience as well as your SEO rank. You can use a plugin like Broken Link Checker to check your site and redirect them to the correct page on your site.
11. Make Sure Your Website Is "Indexable" And "Crawlable"
Search engines discover new pages on the Internet by crawling websites. In a nutshell, they visit known webpages and download new data. But if you block them from crawling or indexing a page, then that page won't get indexed.
You can prevent robots from indexing and crawling certain pages on your site through the robots.txt file. You can also use the meta index tag if you want search engines to crawl a page but not index it. 
Check your websites robots.txt file and ensure that it doesn't include any relevant and important pages. 
Final Thoughts
Technical SEO helps search engines crawl and index your website without any issues. While technical SEO does require some technical knowledge, the good news is that once you set it up right, you won't have to deal with it again, other than performing a regular SEO audit. Use the tips shared in this article to optimize your site for indexing and crawling and set up your technical SEO.
Like our blog? Subscribe to our newsletter.
Over 3 thousand marketers love it. Receive information on best marketing practices, exclusive offers, and ways to boost efficiency, quality, and productivity.